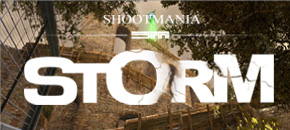 In a throwback to the ideas that made Quake and Counter Strike a success – Shootmania Storm is working to thrill players by not only being a fast and fun multiplayer shooter but to also give the modding community the editing tools they need to create all new levels - and to give the competitive players something to get excited about.
This futuristic first person shooter has a unique approach – you shoot energy bursts from your hands in the same way Iron Man does (see the trailer below). Players disintegrate when hit without all of the gore and blood. Which means this is a game that can be watched by the masses of spectators during competitive matches providing a unique angle for eSports support. To prove this point, Nadeo / Ubisoft hosted a Shootmania Tournament on Twitch TV that streamed live earlier this week with the comments of Total Biscuit and ESLTV's Joe Miller as the shoutcasters. You can watch it at
twitch.tv shootmania
.
The PC exclusive Shootmania will go into public beta this fall and will release closer to the holidays, going for $25 in the USA.
To help them deliver the goods - sign up for the beta at
www.shootmania.com
Watch the latest trailer: